How to Use AdWords for Short Term Promotion?


Father's Day approaching and your online strategy should be already set, but if you haven't already started you still have time.
Running an ad campaign for a short term promotion during holidays, promotion or new product release, it is a great way to get an extra boost of leads into your sales. And let's remember that during the holiday season is time when quick, impulse-drive purchase is at their peak.
Here are some tips on how to create an effective AdWords campaign for short term promotion:
Seasonal Promotion and Product Release
For special offers or product release with a limited time campaign, it is crucial to be as specific as possible with your offer and message, making sure that the searcher understands how they can act in your promotion. And also, as mentioned in the previous blog post, using a focus and well design landing page for a specific promotion it will encourage searchers to take some action. The less barriers of communication and contact the better.
You always have to keep in mind about your business niche and consumer, you may want to think about the different promotion and time that you can offer to your target.
If you have an online store you should include in ad text, free shipping or guaranteed delivery date, coupon codes, percentage of discount and so on. But if you offer services you should consider include in ad text new fiscal year offers new year deals or specific service deal.
 Right Tone Messaging and Language
To stand out from competitors, you should create a unique and target ad text to not look like the other text ads on the SERPs. Creating a new or modify pre-existing text ads to incorporate language and adapting messaging toward holiday or product release users and searches.
Innovative and positive ads normally perform well anytime, but always remember to focus on your target. If you offer services it is better to emphasize on holidays specials or a unique service offered at a specific time. On the other hand, if you have an online store you can emphasize on whimsical spirit of the season and deliver on a specific time or deals for a limited period of time.
Use Ad Extensions
Ad extensions are the best way to incorporate your messaging and direct searches right to the information they are looking for.
Optimise Ad Text for Clicks
Creating an ad campaign to stand out through the competition, you need to make sure the text ad has the best chance to be clicked you have to consider: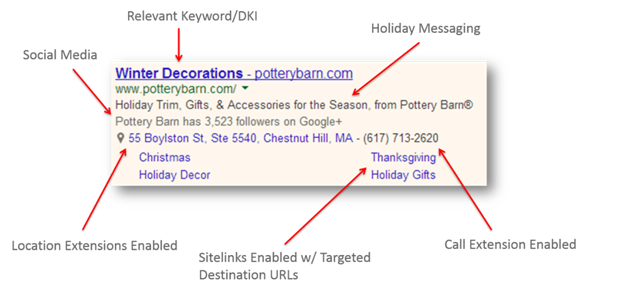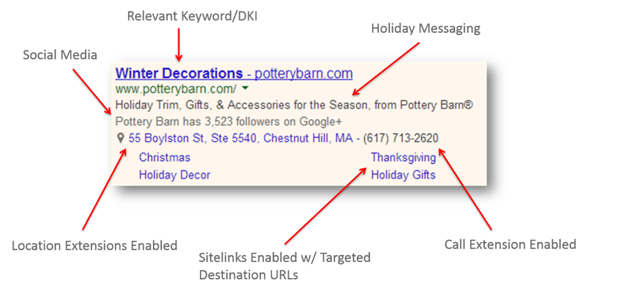 The example above is a holiday text ad.
Relevant Keyword: It needs to create a clear and relevant keyword to be displayed in the headline of the target ad;
Review Extension or Social Media Integration: connecting your social media or review extension into your text ads improves ad's relevancy in Google;
Text Ad Messaging: creating a focused, clear and target text ad will make you stand out from others searches and it will deliver the right message;
Location Extensions: if you have a store that you would like to drive foot traffic, enable location extension on your ad;
Sitelink Extensions: you can link each ad link to a landing page focus on a product or service to target them directly by enabling sitelink extension;
Callout Extension: it is a great way to include specific attributes about your business, products or service to add value to your business such as free shipping, 24/7 service or price matching, and also can be used make sure searchers have a quick way to get in touch with your company;
Promotion Extension: add value to your ad by highlighting your sales or promotion for people that are searching for the best deals. You can use for special occasions such as Father's Day or Black Friday or for promotion including percentage discounts or coupon.
Google ad can work well in short and long term strategy. The one thing that you need to consider is your business target and goals you are trying to achieve. Short term ad campaign can be effective for a specific promotion, product/ service release or holiday season and it is a great way to increase leads.
However, long term strategy is recommended as campaign performance will increase over time. You can collect all data from AdWords tune and optimise your ads making your campaigns more efficient lowering your acquisition.
AU Digital can help you take advantage of the many opportunities with Google AdWords effectively, whether you've never worked with AdWords before, had little experience or have worked with AdWords for several years. Contact us today!