.au Domain Names Available Now – What You Need to Know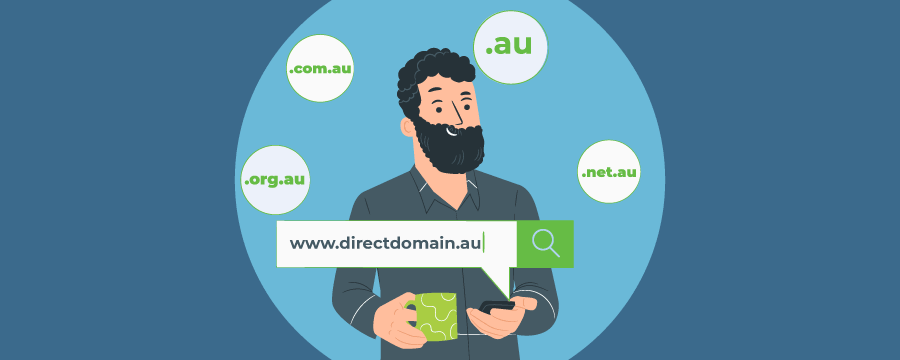 auDA (.au Domain Administration) announced the launch of .au direct names starting on 24 March 2022 on a priority allocation basis until 20th September 2022, when it will be available to the public.
This means businesses, individuals or organisations with a verified connection to Australia will be allowed to register .au direct domain without the extension .com.au or org.au. For example, instead of having yourcompany.com.au now you can register yourcompany.au
.au domain is simple, easy to remember and it will be a big thing in Australia. Whether you missed out on a .com.au domain name or want to protect your brand in an Australian market, this is a great opportunity.
Who Can Register an .au Direct Domain?
Owners of an existing .au domain (.com.au, .net.au etc) are eligible to apply for an exact matching .au domain name via a Priority Allocation Process, which runs until 20 September 2022. This means that whoever owns .com.au will have priority to register the matching .au domain of their existing domain name. In some cases, a name may be contested.
After the priority allocation period, from 21st September 2022, if there are no applications for .au direct name from an eligible registrant, the domain name will be available to the public on a first-come first-served basis.
Priority Categories
In some cases there is a possibility that more than one person will apply for the same .au direct name. This might happen when different registrants own the same name but with different namespace. For example:
George owns yourcompany.com.au and registered on 01 January 2017.
Paul is the registrant of yourcompany.net.au and registered on 07 July 2018.
Both are eligible to apply for the direct domain, but in this case it will be given priority category to determine who can register the domain .au . The priority is based on when the names were registered.
Priority Category 1: domain names registered on or before 04 February 2018.
Priority Category 2: creation date after 04 February 2018.
By using this auDa tool you can check who has the priority category of a domain name. Find out more about the Priority Allocation Process.
How to Secure My .au Direct Domain?
Contact an accredited registrar like AU Digital and apply for .au direct name to be placed on Priority Hold. By placing the name on Priority Hold will prevent the direct name .au to be registered by others, enabling existing registrants to register at first with the exact match of their existing domain name.
In some cases, if the name is uncontested (one domain name owner), the application will be approved shortly after the application.
Why Should I Register .au Direct?
Securing the direct domain .au you will be protecting your brand online.The direct domain is easy to type, is more memorable, and also indicates that your website is an Australian based business.
.au domain will help to boost your online Australian presence by ranking you higher on a search engine whenever a user makes a local search.
Do I have to apply for Direct .au ?
According to auDA policy, there is no obligation to register the .au direct exact match of your domain name and yours existing domain name will continue to operate as usual.
How We Can Help?
AU Digital is an accredited registrar and can help you to apply for your .au direct domain name to protect your online business. Contact us today on 02 9907 3136.