In most cases, an error when sending is due to an incorrect "Outgoing mailserver" setting.
The Outgoing mailserver should usually be that of your ISP  (Internet Service Provider, often Bigpond, or Optus. This is the company that provides your internet connection.)
If you don't know your ISP's mail server, there are two ways to find out.
Go to https://whatismyipaddress.com/ to see who your ISP is
The list below provides the SMTP (outgoing mail server) details for Australia's most common internet service providers. If you can't find your internet service provider on the list below, you should be able to find it on their support pages.
ISP
SMTP Server
aaNet
mail.aanet.com.au
AAPT smartchat
mail.aapt.net.au
Adam Internet
mail.adam.com.au
Amnet
mail.amnet.net.au
Blink Internet
mail.blink.m2.com.au
Dodo
smtp.dodo.com.au
EFTel/Datafast
mail.eftel.net.au
HotKey Internet
mail.hotkey.net.au
Internode
mail.internode.on.net
iiNet
mail.m.iinet.net.au
iPrimus
smtp.iprimus.com.au
Netspace
mail.netspace.net.au
OntheNet
mail.onthenet.com.au
Optusnet
mail.optusnet.com.au
Ozemail
smtp.ozemail.com.au
OzForces
smtp.ozforces.com.au
Pacific Internet
smtp.pacific.net.au
People Telecom
NSW: smtp.syd.people.net.au
Vic: smtp.mel.people.net.au
Qld: smtp.bri.people.net.au
SA/NT: smtp.adl.people.net.au
WA: smtp.per.people.net.au
Telstra BigPond
mail.bigpond.com
Three (3G Mobile)
smtp.three.com.au
TPG
mail.tpg.com.au
TSN Internet
mail.tsn.cc
Unwired
esmtp.unwired.com.au
Virgin Mobile 3G
smtp.virginbroadband.com.au
Vodaphone 3G
smtp.vodaphone.net.au
Westnet
mail.westnet.com.au
You might have an email account already set up and functioning. If this is the case, then you can probably find the mail server details in that account.Here's how to do it:
Step 1: Open your "Account Settings" from the "File" menu item.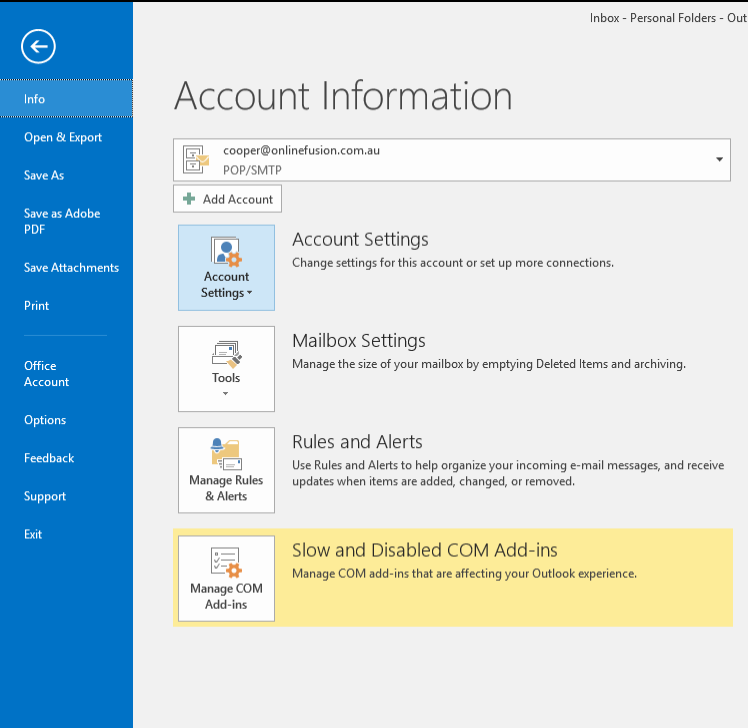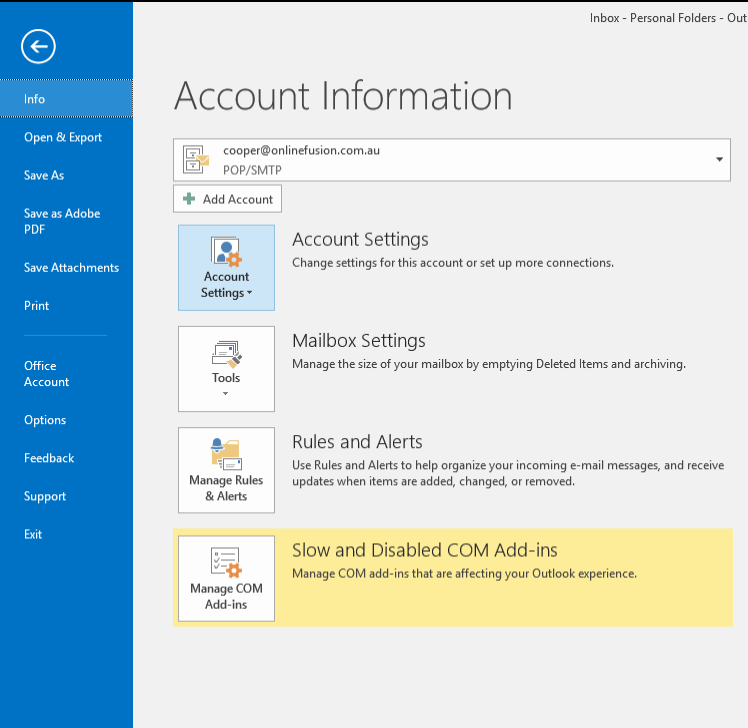 Step 2: Select the existing email account, and click "change". (Note: you don't actually want to change anything here, we are just looking.)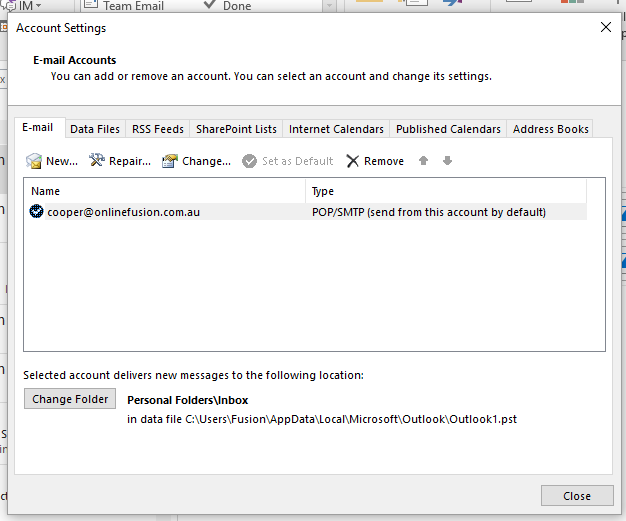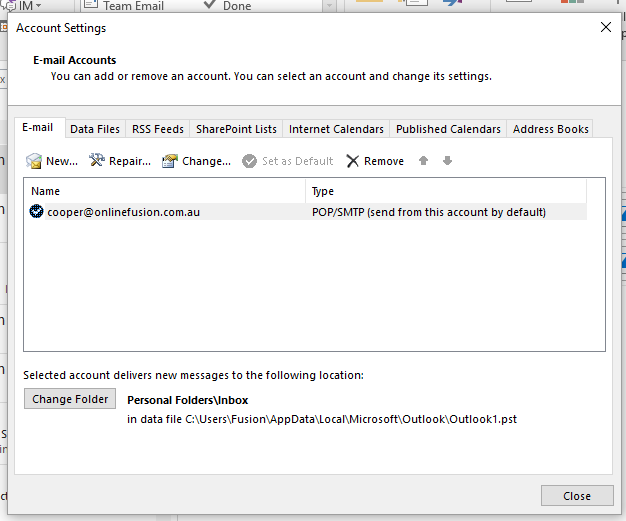 Step 3: You will need to change the box that has Outgoing mail server (SMTP)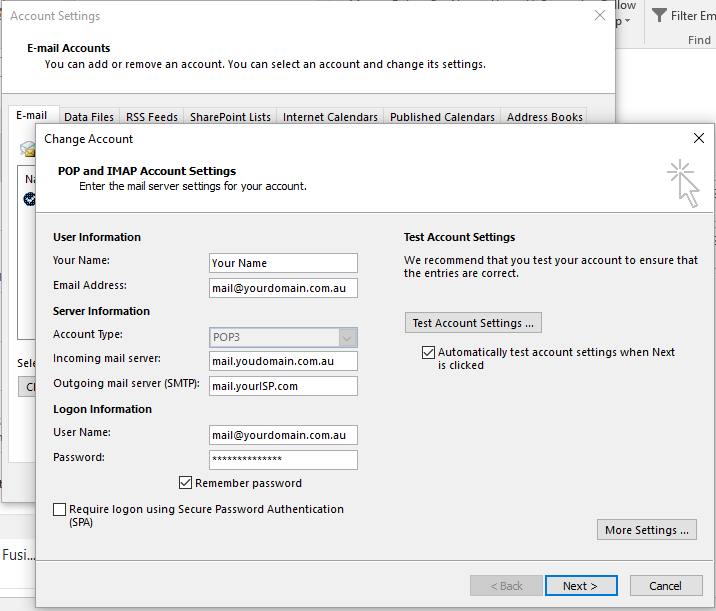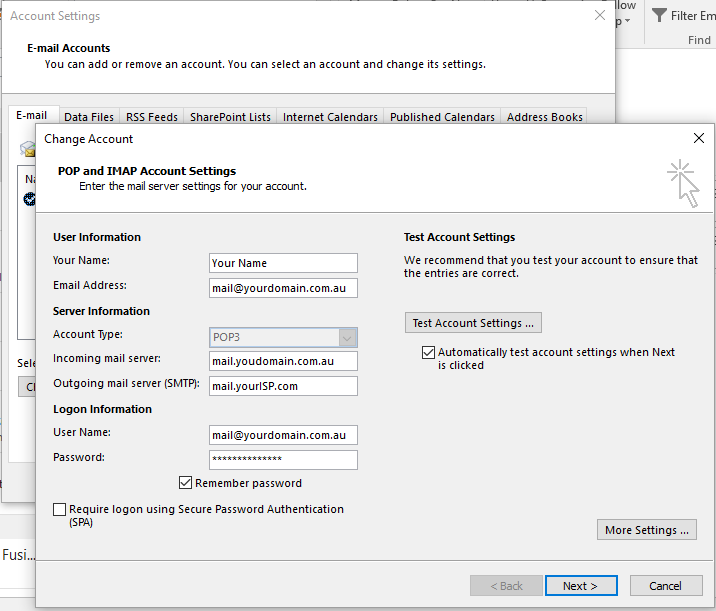 Make sure if you're using ISP as your outgoing mail server that authentication is not set in More Settings > Outgoing Server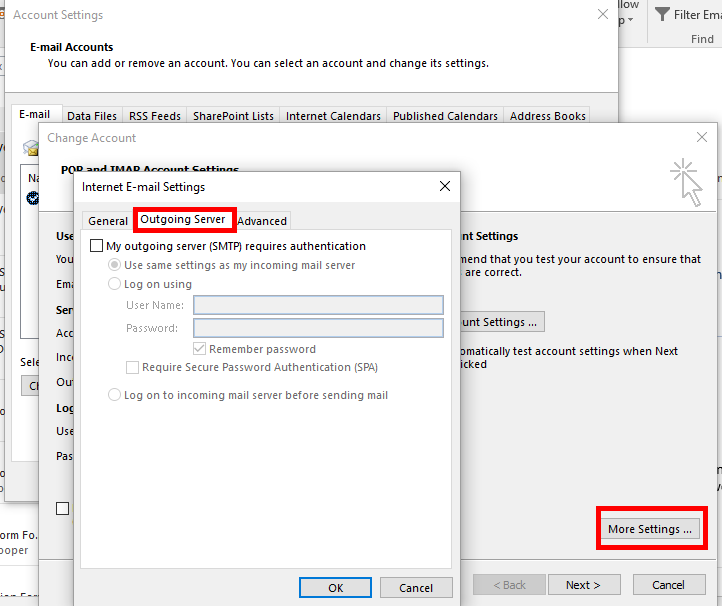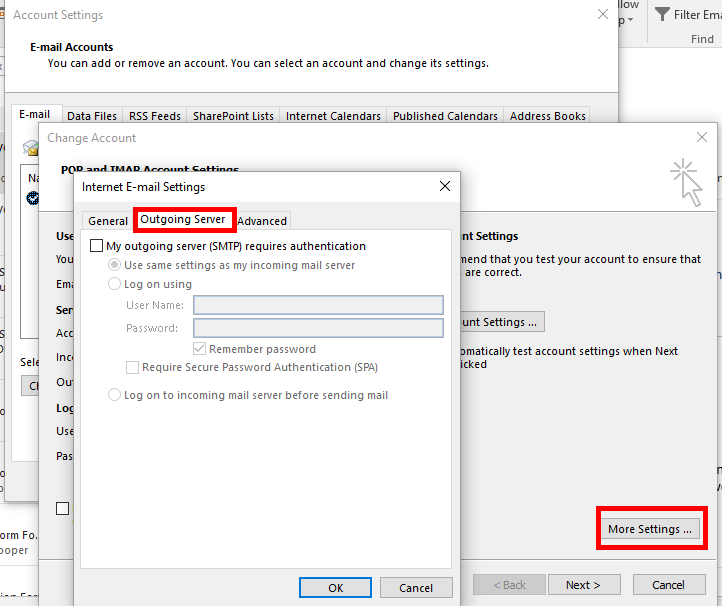 Step 4: Now that you have found your Outgoing mail server, copy it and paste it into Outgoing mail server (SMTP).
If you're having problems many Internet Service Providers (ISPs) have started to block Port 25 to prevent spam.
AU Digital recommends port 587 in place of port 25 for Non SSL connections and port 465 for SSL connections.
Non SSL = 25 or 587
SSL = 465
You can find the option to change the port number under More Settings > Advanced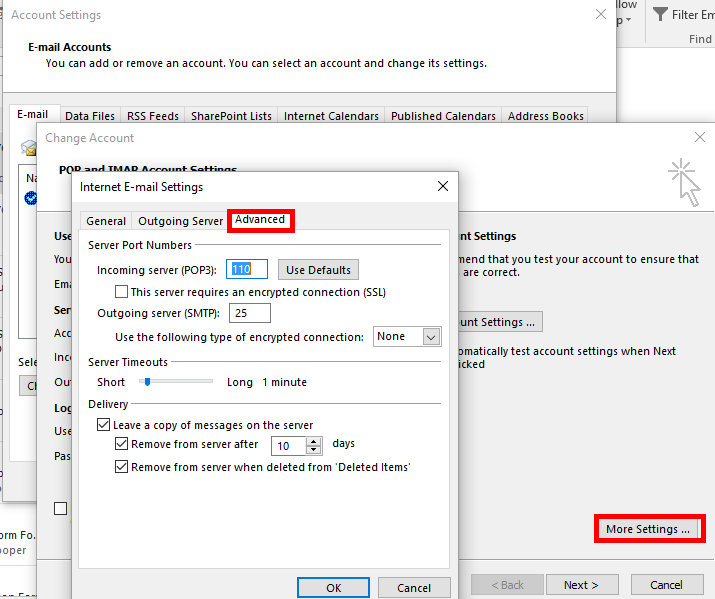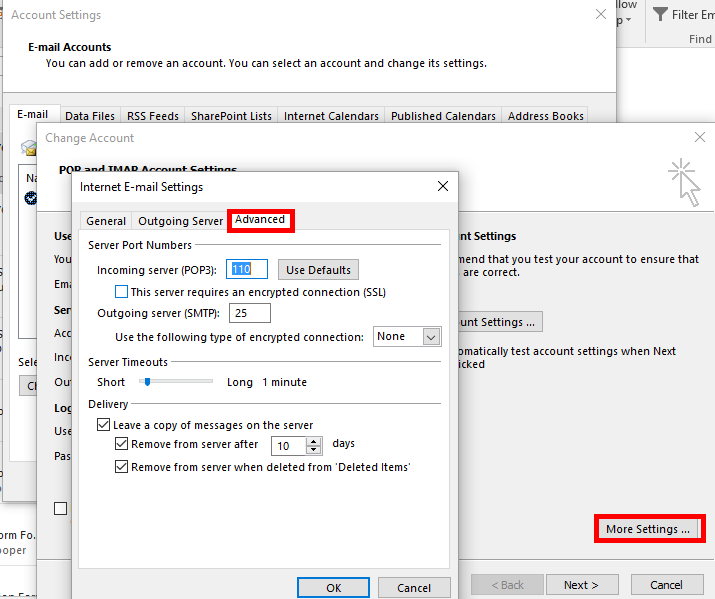 Alternative Outgoing server settings
Instead of using your ISP as your outgoing mail server you can use mail.yourdomain.com.au
To do this instead of setting Outgoing mail server  (SMTP) to your ISP change it to mail.yourdomain.com.au.
Make sure that authentication is set in More Settings > Outgoing Server